Indian ayurvedic vegetarian cooking recipes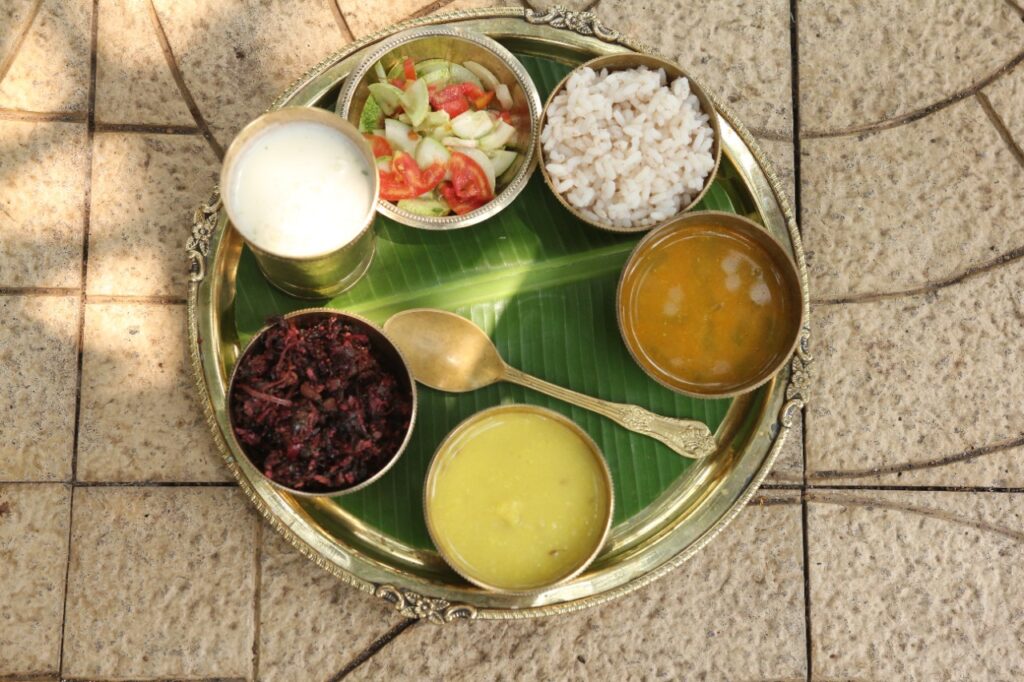 The culinary team at Aanandakosha is constantly exploring the arena of healthy cooking. Our Ayurveda food technologists are happy to share with you the authentic Indian ayurvedic vegetarian cooking recipes and knowledge about healthy life on this page.
1.) Roasted pumpkin soup with cumin drizzle
It regulates your blood pressure. Eating pumpkin is good for the heart. The fiber, potassium, and vitamin content in pumpkin all support heart health. Studies suggest that consuming enough potassium may be almost as important as decreasing sodium intake for the treatment of hypertension, or high blood pressure.
Ingredients:
Pumpkin : 250gm
Ginger : small piece
Garlic : 2 small piece
Black pepper : 3nos of seeds
Cinnamon : small piece
Cloves : 2 numbers
Salt to taste
Directions
Peel & cut the pumpkin, boil it with ginger, garlic black pepper, cinnamon & cloves.
Cook well and mash it, add salt to taste. Stain it and serve hot.
2.) Oats & vegetable soup
Oats are among the healthiest grains on earth.
They're a gluten-free whole grain and a great source of important vitamins, minerals, fibre and antioxidants.
Studies show that oats and oatmeal have many health benefits.
These include weight loss, lower blood sugar levels and a reduced risk of heart disease.
Ingredients
Oats : 50gm
Black pepper : 3 seeds
Cauliflower : small piece
Carrot : small piece
Beans : 1 piece
Salt to taste
Directions:
Take the oats make it fine powered with mixer grinder. Boil one cup of water and add the powered oats. Cook for 5 minutes and stained it well .Pour it into a fresh pan and boil it with ½ cup of water and add black pepper, fine chopped carrot, beans and garlic ,add salt to taste and serve it hot.
3.) Carrot ginger pineapple detox soup
This soup is so refreshing, it's simple to make and nutritious, the sweetness of the carrots and pineapple work really well together, and the heat from the ginger and curry powder are mellowed out by the creaminess of the coconut .Fresh cilantro or basil is blended to the soup as these enhance the fresh flavours of this soup.
Ingredients
1 onion, chopped
3 tablespoons finely chopped ginger
3 cloves garlic, minced
1 lb carrots, peeled and chopped into one-inch pieces
8 oz pineapple peeled and cut into one-inch pieces
4 cups vegetable stock
1-2 teaspoons curry powder
1 cup coconut milk
Salt and pepper to taste
Directions
Heat olive oil in a large saucepan over a medium heat. Add in the onions, ginger and curry powder, sauté for four to five minutes. Add the garlic and sauté for another minute. Then pour in the stock, add the carrots and pineapple and season with salt and pepper.
Bring to a boil, and then turn down heat to a simmer for 25 to 30 minutes until the carrots are nicely tender. Purée with an immersion blender until smooth.
Heat the puree in a separate pan.
Pour in the coconut milk, stirring well to combine, and then serve it hot.
4.) Pumkin and coconut soup
Ingredients
Pumkin :250gm
Ginger :small piece
Garlic :3 flakes
Curry leaves :1 spring
Green chilly :1 no
Turmeric powder : ½ tsp
Salt :to taste
Coconut milk :100ml
Directions
Peel the pumpkin and cut to cubes. Boil it with chopped ginger, garlic, curry leaves, green chili, turmeric powder and salt.
Cook well and mash it. Add the coconut milk and check ad seasoning and
Serve it hot.
Raw banana soup
Ingredients:
1. Raw banana : 250 gm
2. Ginger : a small piece
3. Curry leaves : 2 springs
4. Green chilly : 1 nos
5. Turmeric powder : ½ tsp
6. Salt : to taste
7. Cumin powder : ¼ tsp
Method:
Peel the raw banana and cut the cubes, boil it with chopped ginger, curry leaf, green chilli, turmeric powder and salt. Cook well and mash it.
Add cumin powder and chopped curry leaves and serve it hot.
5.) Carrot & drumstick soup
Ingredients
1. Carrot : 2 nos
2. Drumstick : 1 nos
3. Onion : 1 medium
4. Ginger : small 1 piece
5. Garlic : small 2 pieces
6. Turmeric : ½ tea spoon
7. Vegetable oil : 1 tea spoon
8. Coriander leaves : 1 tea spoon (chopped)
9. Salt : to taste
Directions
Boil chopped carrot and drumstick and onion, and then strain it separate. Pour the purée in a hot pan add turmeric powder & vegetable oil make it hot and add coriander leaves and salt to taste. Serve it hot.
Kollu(horse gram) soup
Horse gram is a super food. Few health benefits of horse gram is that it is very rich in iron, calcium and protein. In fact it has the highest calcium content among pulses and is one of the richest vegetarian sources of protein. It is low in fat and high in carbohydrate content. It is very helpful in treating obesity and diabetes because of its low lipid and sodium content.
Ingredients
1/4 cup horse gram
3-4 tomatoes
Few pods of garlic
1/2 tsp cumin seeds
Salt to taste
Pepper to taste
Chopped coriander leaves
Lemon juice from 1/2 lemon
Directions
1. Wash and soak the dal for 8-10 hours.(overnight)
2. Add tomatoes, garlic pods, cumin and peppercorns.
3. Add a pinch of turmeric powder and pressure cook for 10 minutes after three whistles
4. Once the pressure subsides puree it with a hand blender or in a normal mixer.
5. Filter it in a vessel.
6. Heat up the filtered soup and add salt and pepper powder if required.
7. Do not let it boil. Once it starts boiling switch off the stove, add coriander leaves and lemon juice.
Check for salt and pepper and enjoy the healthy soup!!
6.) Beetroot & tomato soup
Tomato & beetroot soup is a comforting and easy dish to make on cold rainy days. This recipe uses no corn flour or heavy cream, relying on the goodness of vegetables alone to provide all the goodness, flavour and body to the soup.
Ingredients
500 grams tomatoes , quartered
1 onion , finely chopped
50 grams beetroot , roughly chopped
3 cloves garlic
1 teaspoon whole black peppercorns
1 inch cinnamon stick (dalchini)
2 cloves (laung)
2 cardamom (elaichi) pods/seeds
2 teaspoons butter
1 teaspoon cooking oil
2 cups water
1/2 cup milk
Salt , to taste
Directions
To begin making the tomato & beetroot soup, heat butter and oil in a pan.
Add the whole spices (cardamom, cinnamon, cloves and peppercorn) to it and sauté them lightly till aromatic.
Next, add the garlic and onions and sauté them up till light brown and translucent.
Then, tip in the quartered tomatoes and toss them continuously, cooking on a medium flame, until the skin shrinks.
The next step is to add the beetroot, salt and water to this and pressure cook until you hear a couple of whistles. Turn off the heat after a couple of whistles and allow the pressure to release completely.
Once the pressure has released from the cooker pour the tomato beetroot soup mixture into a blender to make a smooth puree.
Strain the soup into a saucepan, add the milk and bring it to a gentle boil, allowing it to simmer for 2-3 minutes.
Serve tomato & beetroot soup along with cheese garlic bread and chickpea orange salad with sun dried tomatoes for a light weeknight dinner.
7.) Chutney pudi
Chutney powder-idli dosa podi is a part of indian cuisine. It's served along with the breakfast dishes or even with hot plain steamed rice. This idli podi recipe is a healthy time-saver and always in stock in almost all the houses in south india. They don't vary much from state to state, but there are always a few tweaks here and there.
Ingredients
Urad dal/ uzhunnu parippu-3/4 cup
Channa dal/ kadala parippu-1/4 cup
Coriander seeds-1 tbsp
Black pepper corns-1/2 tsp( optional)
Curry leaves-2 sprigs
Dry red chilies-12 to 15 nos( according to taste)
Garlic chopped-4 to 5 cloves
Asafoetida-2 generous pinch
Salt-to taste
Oil-1/2 tsp
Directions
Heat oil in a pan, add urad dal, channa dal, coriander seeds, black pepper corns and curry leaves. Roast until it turns golden, stirring continuously.
Now add dry red chilies, garlic and asafoetida. Roast it until dal turns golden brown.
Allow this to cool slightly, add salt to taste and grind to form a coarse / fine powder ,as desired.
8.) Oats roti
Oats are a rich source of soluble fibre 'beta-glucan', which is a potent cholesterol-lowering agent. Please serve the roti's hot with fresh low-fat yogurt (dahi) or a cholesterol-friendly subzi for a really healthy life…
Ingredients:
Amount
One cup oats flour
3 tea spoons of wheat flour,1/2 tea spoon finely chopped green chilly,2 tea spoon of onion chopped,1/2 tea spoon of finely chopped coriander leaves.
Directions:
1. Grind oats to a fine powder. Then mix oats powder with wheat flour then add oil.
2. Add red chilli powder, onions, coriander leaves, salt and mix well. Add water and start kneading. …
3. Using a chapathi roller roll out to a slightly thin circle, dust flour while rolling. Do it gently as it tends to tear easily.
4. Heat a non-stick tava (griddle) and cook each roti, using ¼ tsp of oil, till it turns golden brown in color from both the sides.
9.) Tomato chutney
Tomato chutney , a finger licking tangy and spicy chutney made with tomato and other basic indian spices can also be had as a dip for south indian break fast like idly,dosa'suttappam's etc. It is a great accompaniment to experiment and make new serving pairs with various types of snacks and side dishes.
Ingredients:
Amount
2 sorted tomatoes, one medium size onion, 1red chilies small pinch of coriander leaves ,1 tsp black beluga lentils ,very little assafodita, salt to taste .
Directions:
1. Heat some oil, add brown onions and ginger-garlic paste to it and cook till they brown.
2. Add tomatoes, salt, chilli powder and turmeric powder and cook to a thick consistency.
10.) Apple yogurt
The apple yogurt bowl is beneficial in providing healthy fats, protein and fiber. Fiber benefits can vary, so having a variety of different fiber in your diet is highly beneficial.
Ingredients:
Amount one good sized pasted apple 1`tsp honey and ½ bowl of yogurt.
Directions: 1. Peeled apple pasted and keep it separate and mixed with honey and yogurt.
Beetroot tomato & orange juice
Ingredients:
Amount 1/2 medium sized beetroot,1 medium sized carrots,1 medium sized tomato,lemon juice
Directions:
Peel and roughly chop the beetroot, tomatoes and blend them in a blender using 1 cup of water or use a juicer.
Grind them into a fine paste, add more water if required while blending. Bring the juice to your desired consistency by adding more water if required.
Add lemon juice, rock salt and mix well, drink the juice without straining or you'll lose all the good fibres.
11.) Red rice appam
This variety beats the nutritional benefits of brown and red rice combined. Rich in fibre, it comes loaded with antioxidants, phytonutrients, photochemical, vitamin e, protein, iron, and other nutrients. …
Ingredients:
Amount red boiled rice one cup, raw rice (can use sona masoori-1 cup,urd dal,1/4 th cup,fenugreek/methi seeds 1 tea spoon,cooked rice one cup,1m/2cup of coconut flakes, salt to taste.
Directions:
1, mixed all the incridents well and grinted with mixed grinder
Keep the batter over night to ferment
Take the appam pan heated and apply little oil and pour a full laddle batter into the pan and make a round shape and close with the lid for 2 mins and take it out..
12.) Rice idly
Idly is a round shaped steamed rice lentil cake.Is one of favourite breakfast in south india .Its prepared of steam batter made of short grain rice and protine riched urd dal.
Rice idly specifically loved its because of milky white colour and soft spoungy texture.
Ingredients:
Amount 1 cup of parboiled rice (idly rice or short grain rice)
1 cup of basmati rice (or any rice).
½ cup whole urad dal(skinned or split urad dal
½ tea spoon of fenugreek seeds
Salt to taste, oil for greasing.
Directions:
1. Gently mix the batter once. Don't mix it vigorously or too often as it would remove all the air in the batter. Rub a little oil on each of the idli moulds.
2. Drop spoonful of batter in each mould. Add about 1" deep water in your idli steamer. Place the idli stand in the steamer and close. Steam on high for 5 minutes.
3. Reduce heat and steam on low for 10 minutes. Open the steamer carefully and check the idli by inserting a clean knife. If the knife comes out clean, idli is done. Or else steam for another couple of minutes.
4. Remove the steamer from heat and let it stand for 5 minutes. Open and remove the idlis from the mould with a knife.
Serve warm with chutney's or sambar.
13.) Rawa idly
Rava items are very popular as a breakfast dish in south india and also as a snack which is easy and quick to prepare in the morning & evening. Many feel that it is a wheat item so it's a better choice than rice items like rice idli or dosa. Unfortunately it is very heavy in terms of calories once cooked. 100gms of rawrava is 350 calories.
Ingredients:
1 glass of semolina,one cup of yogurt,1/2 of water,1 medium sized green chilli,pinch of corriander leaves,1/2 spoon of fine chopped ginger,1 tsp of grated carrot,1/2 cup of urd dal,1/2 tsp of cumin seeds,oil,salt to taste .. (incredients of batter)
Directions:
1. Heat a pan and add ghee.
When the ghee is hot, add rava
Fry until the rava emits a nice aroma
2. Mix the tempering to the rava.
3. Add curd. Mix well and ensure no lumps are formed.
4. Add water and coriander and make a batter.
5. Add salt and keep it aside for 30 minutes
6. Grease the idli moulds with oil.
14.) Dragon fruit bowl
Dragon fruit is jam-packed with flavonoids and flu-fighting vitamin c, which is great for the immune system. In fact, it contains more vitamin c than a carrot, making the dragon fruit one of the top vitamin c
Dragon fruit also ranks high on the antioxidant list, which helps kick those free radicals to the curb. And even more support steps up from vitamins b1, b2, b3, as well as calcium, phosphorous, iron, protein, niacin and fiber teaming up to keep that immune system in tip-top shape.
Ingredients:
Scooped half cut dragon fruits presents with the pomegranate, cuts dragon fruits and mint.
Directions:
1. Half cut dragon fruits and scooped out the meat .
2. Cut small pieces of fruit meats and mixed with pomegranate and presents with grated coconut in a half plate or quarter plate.
15.) Parippu dal
Parippu (lentil) or dal curry has been an integral part of our nation's diet for eons. The rich flavour and innumerable health benefits of parippu have made it among the most consumed vegetarian delicacies of god's own county. Kerala's unique version of dal curry is elevated with the addition of coconut and the recipe.
Ingredients:
Cheruparippu /moong dal : 1 cup,grated coconut : ½ cup,cumin : ½ tsp,mall red onions/ shallots /pearl onion : 3 nos,green chillies ,turmeric powder : ¼ tsp, ghee /coconut oil : 2 tsp,mustard seeds ¼ tsp,dried red chilli : 2 , few curry leaves,water as required, salt to taste
Directions:
Cook moong dal-parippu in a pressure cooker by adding enough water and salt into it. (note : mash it well by adding more water if necessary)
2 grind grated coconut, green chilles and cumins seeds with turmeric powder.
Add grounded coconut paste, salt to the mashed dal (add water if necessary) and let it boil and remove from heat.
Heat oil/ghee in another pan and splutter mustard seeds, add small onion, curry leaves and red chilli.
Saute till the onion becomes golden brown and translucent. Pour over cooked dal-parippu.
Serve with rice and pappad, drizzle some ghee on the curry before serving and enjoy!
16.) Poha payasam
Since poha are gluten free, it can be consumed by those allergic to wheat products. You get iron, vitamin b, carbohydrates and proteins from this mix. You get carbs from poha and jaggery is loaded with antioxidants and minerals like zinc and selenium, which help prevent free-radicals .It acts as a detox, as it helps cleanse the liver by flushing out nasty toxins from the body.
Ingredients:
Flattered rice (poha) ,stained jiggery sorted with ghee and cashew nuts
Directions:
Take a pan and heat ghee for 2 mins
Add poha (flatter rice) into the pan and stir well with jaggery stained water for 20 mins
Serve it into a small bowl with the garnish of cashew nuts
17.) Pachedi
Pachadi refers to a traditional south indian raita. Raita used as side dish. Broadly translated, it refers to food which has been pounded. In karnataka, kerala and tamil nadu, pachadi is a side dish curry similar to the north indian raita, and is made with vegtable,yoghurt, coconut, ginger and curry leaves.
Ingredients:
Pasted coconuts with ginger, boiled small cucumbers pieces, cumin seeds,curryleaves boiled together, keep it warm ,then add yogurt.
Directions:
Heat oil, add mustard seeds, chilly, ginger and curry leaves.
When seeds begin to splutter, remove from heat. Leave to cool completely.
Squeeze out liquid from cucumber and add it (the grated cucumber) with the other ingredients to the cooled mixture. …
18.) South indian style pumkin curry
"this is a popular dish in kerala, south india. It's made during the festivals and is an extremely nutritious and tasty preparation rich in antioxidants and vitamins. What's vital to the dish, however, is the process of frying the coconut in the end to season the dish. This imparts a unique flavor and aroma to this curry."
Ingredients
Cups cubed fresh pumpkin
2 cups water, or as needed
1 teaspoon ground turmeric
Salt to taste
1/2 cup grated coconut
3 dried red chile peppers
1 green chile pepper
2 tablespoons water, or as needed
1 teaspoon cumin seeds
1 tablespoon coconut oil, divided
2 dried red chile peppers
1 teaspoon mustard seeds
1 teaspoon skinned split black lentils (urad dal)
1 tablespoon grated coconut
6 fresh curry leaves, or more to taste
Add all ingredients to list
Directions
Put pumpkin into a large pot. Pour 2 cups water over the pumpkin so the cubes are floating. Season pumpkin and water with turmeric and salt. Bring the mixture to a boil and cook until the pumpkin is tender yet firm enough to retain shape, about 15 minutes.
Grind 1/2 cup coconut, 3 red chile peppers, green chile pepper, 2 tablespoons water, and cumin seeds in a food processor until you have a paste; stir into the pumpkin mixture and bring again to a boil. Cook until the liquid has thickened and coats the pumpkin cubes, 5 to 7 minutes. Pour the curry into a large serving bowl.
Heat 2 teaspoons coconut oil in a small skillet over medium-high heat. Cook 2 dried red chilli peppers, mustard seeds, and black lentils in hot oil until they sputter, 2 to 3 minutes; pour over curry.
Heat remaining teaspoon coconut oil in the skillet. Fry 1 tablespoon coconut in the hot oil until completely browned, 3 to 5 minutes. Pour atop the curry. Garnish dish with curry leaves
Broken wheat upma
Broken wheat upma, as the name suggests is nutrient-rich wheat based upma. While the broken wheat brings in loads of dietary fibre and energy, carrot and green peas bring along a wealth of nutrients, especially vitamin a. The veggies also add crunch to an otherwise soft upma. You may also add other veggies of your choice to make it more colourful and tasty.
Ingredients
1/2 cup broken wheat (dalia)
2 tsp oil
1/4 tsp mustard seeds ( rai / sarson)
2 tsp finely chopped green chillies
1/2 cup chopped onions
1/2 tsp grated ginger (adrak)
1/4 cup green peas
1/4 cup chopped carrot
Salt to taste
19.) Njavara kanji or boiled njavara paal kanji
Njavara paalkanji or boiled navara rice with milk is a traditional recipe the monsoon season. Njavara or navara rice, milk and sugar are the essential ingredients used in this recipe. Njavara is one of a unique rice variety cultivated in kerala. It is believed to have medicinal properties to rectify the basic ailments affecting the respiratory, circulatory as well as the digestive system. Njavara kizhi and the njavara theppu treatments in ayurveda make use of this nutritious navara cereal. During winter season recipes prepared of njavara rice is known to have a positive effect on building immunity. The presence of milk in this recipe gives a white texture. Sugar or rock sugar candy is used for a sweet taste. Have a look at the ingredients used and the method of preparation of njavara paalkanji or boiled navara rice with milk.
Ingredients
0 gms of njavara/navara rice
500 ml of water
250 ml of milk (pure cow milk)
Sugar or rock sugar candy as per the taste
Directions
Wash the navara rice in clean water for 2-3 times. Drain the rice and keep it aside.
Heat some water in an earthen pot or in a rice pan.
Once the water starts to boil, place the rice in the water.
Reduce the flame to a low-medium range and cook it for some time.
When the rice is cooked to a soft state, slowly pour the milk and continue boiling for 2-3 minutes.
Add some sugar or white rock candy for a sweet taste.
If needed, you can also include cashew nuts, raisins and cardamom for an improved rich flavour.
Njavara or navara rice paalkanji is ready and serve it hot.
20.) Coconut rice
It's very easy to make at home it can be prepare just few minutes if fresh grated coconut and rice is ready. It can be served with any simple curry or curd and a fresh vegetable salad. It is also made on festivals for lunch.
Ingredients
One cup cooked rice (any kind of rice)
½ cup of fresh grated coconut.
1 green chili
1 broken red chilly
2 tea spoon of cooking oil
½ tea spoon of mustard
½ tea spoon of cumin
Pinch of hing
½ tea spoon of channa dal
½ tea spoon of urd dal
½ tea spoon of chopped ginger
Cashew, peanut and salt as required.
21.) Palak Paratha
Paratha is one type of unleavened indian flat bread in which adding spinach purée considered as wheat powder mixing instead of water. A healthy and tasty dish which can be considered to use for both breakfast and dinner.
Igredients (1 cup = 250 ml)
For palak puree:
1 bunch palak leaves / spinach
3 cups water
1 inch ginger
1 green chilli
For dough:
2 cup wheat flour
½ tsp ajwain / carom seeds
Salt to taste
2 tsp oil
Water as required to knead dough
Other ingredients:
½ cup wheat flour to dust
Oil / ghee / for roasting
Instructions
Firstly, prepare dough with palak puree.
Further pinch medium sized ball dough, roll and flatten it.
Also dust with some wheat flour.
And roll it in a thin circle like chapathi or paratha.
Now on a hot tawa place the rolled paratha and cook for a minute.
Furthermore, when the base is partly cooked, flip and cook.
Also brush oil / ghee and press slightly.
Finally, serve palak paratha with raita and pickle.
22.) Vegetable stew
The recipes are generally prepared with freshly grated coconut masala or with coconut milk. One such popular creamy kerala style curry is a vegetable stew with choice veggies.
Ingredients (1 cup = 250 ml)
½ tbsp coconut oil
2 cloves / lavang
1 inch cinnamon / dalchini
2 pods cardamom / elachi
½ onion sliced
5 beans chopped
½ carrot chopped
½ potato cubed
3 tbsp peas / matar
10 florets cauliflower / gobi
2 green chilli slit
1 inch ginger julienne
1 cup water
1 tsp salt
2 cup coconut milk thin
Few curry leaves
¼ cup coconut milk thick
Instructions
Firstly, in a large kadai heat ½ tbsp coconut oil and sauté 2 cloves, 1 inch cinnamon and 2 pods cardamom.
Further, add ½ onion and sauté till they shrink slightly. Do not brown the onions.
Also add 5 beans, ½ carrot, ½ potato, 3 tbsp peas, 10 florets cauliflower, 2 green chilli and 1 inch ginger.
Sauté for a minute.
Furthermore, add 1 cup water, 1 tsp salt and few curry leaves. Mix well.
Cover and boil for 5 minutes or till vegetables are half cooked.
Now add 2 cup coconut milk (thin consistency) and mix well.
Boil for 7 minutes or till vegetables is cooked completely.
Turn off the flame and add few curry leaves, ¼ cup thick coconut milk and 1 tsp coconut oil. Mix well.
Finally, serve kerala style vegetable stew with idiyappam or appam.
23.) Oats roti
Oats are a rich source of soluble fibre 'beta-glucan', which is a potent cholesterol-lowering agent. Serve these rotis hot with fresh low-fat curds (dahi) or a cholesterol-friendly subzi for a really healthy treat.
Ingredients
1 cup whole wheat flour (gehun ka atta)
1/2 cup quick cooking rolled oats
1/4 cup finely chopped onions
2 tbsp finely chopped coriander (dhania)
1/2 tsp finely chopped green chillies
Salt to taste
Instructions
Combine the wheat flour, oats, onions, green chillies, coriander, salt and 1 tsp of oil and knead into a soft dough using a little water.
Cover with a lid and keep aside for 15 to 20 minutes.
Cover with a lid and keep aside for 15 to 20 minutes. Heat a non-stick tava (griddle) and cook each roti, using ¼ tsp of oil, till it turns golden brown in colour from both the sides. Serve immediately.
24.) Beetroot roti
Beetroot chapati is very healthy and tasty. Beetroot is ground and added to the flour and allowed to rest for some time and made into chapatis.
Ingredients
1 cup beetroot
Water as required
1/2 teaspoon turmeric
1 teaspoon chilli powder
2 pinches asafoetida
1/2 teaspoon salt
2 tablespoon refined oil
2 tablespoon sesame seeds
1 teaspoon coriander powder
1 cup wholemeal flour
Instructions
To start with, wash and clean beetroot. Keep a pan on medium flame; add enough water and beetroot in it. Boil the beetroot until it gets tender. Peel and grate the beetroot. Keep it aside until needed again.
Now in a deep based bowl add in the sesame seeds followed by grated beetroot, 4 tsp refined oil, whole meal flour, chilli powder, salt, coriander powder and asafoetida. To this mixture add enough water and knead it into smooth dough
Divide the prepared dough into small ball like portions and flatten them using a rolling pin. Make them into a chapati size circle. Keep a griddle on medium flame and add the prepared chapatti on it.
Cook until you see brown dots on each side of the chapatti. Once the chapatti is cooked, its best to serve it hot.
25.) Semiya payasam
Vermicelli payasam is an authentic south indian recipe. This classic dessert recipe is made using milk, vermicelli and dry fruits and is eaten at various special occasions, pujas and festivals.
Ingredients
100 gm roasted vermicelli
1 teaspoon ghee
25 gm cashews
25 gm raisins
500 ml milk
200 gm sugar
1 teaspoon powdered green cardamom
Instructions
Step 1
Vermicelli payasam is a delicious sweet delight, which can be prepared in just a few minutes by following some simple steps given below. Take a pan and heat it on medium flame, then add ghee and sauté cashew nuts and raisins. Mix it till it turns golden brown.
Step 2
Then add vermicelli and sauté for it 2 minutes. Now, add milk, sugar and cardamom powder. Allow it to cook till consistency becomes thick, if you want to make it more creamier use full cream milk to prepare this dish, full cream milk is much creamier as compared to double pasteurized milk.
Step 3
Stir well, until it forms a thick creamy texture and vermicelli payasam is ready to serve. Plating a dish is as important as making it, so using a beautiful serving bowl and pour the payasam on it and top it with some nuts and raisins.
26.) Ada payasam
Desserts are indeed the most favorite part of a meal and are therefore a delight to relish! One such sweet-dish recipe that will also be happily relished by your taste buds is ada pradhaman. Originating from southern india, this is a lip-smacking dessert recipe that is quite famous all across the country.
Ingredients
1 cup rice
3 1/2 cup coconut milk
4 tablespoon cashews
1/2 teaspoon powdered green cardamom
Water as required
4 tablespoon raisins
2 1/2 tablespoon ghee
3 cup cane sugar
4 tablespoon chopped coconut
Instructions
Step 1
To begin with, put a deep-bottomed pan on medium flame and pour enough water in it. Allow the water to come to a boil, turn the flame off and add rice (rice ada) in it. Leave the rice undisturbed for half an hour. Once done, drain the water and wash the rice (rice ada) under cold water. Keep it away until needed.
Step 2
Now, put a non-stick pan on medium flame and heat ghee in it. Add in raisins followed by cashews and coconut bits. Mix well and fry for a minute or two. Keep them aside. Meanwhile, in a bowl add water and cane sugar and leave it undisturbed until needed.
Step 3
Now, in the same non-stick pan, add the remaining ghee in it followed by rice (rice ada). Cook for 5 minutes.
Step 4
Once done, add in jaggery-water mixture (see step-2 for clarity) and mix well. Simmer the mixture until it thickens. Then add in coconut milk followed by adding fried dry fruits (see step-2) and powdered green cardamom, mix well. Turn the flame off and pour it into a serving bowl. Serve fresh and hot!
27.) Ela ada
Ada or ela ada is a traditional kerala (south india) delicacy. It is made of coconut and brown sugar (jaggery), which is layered inside the rice paste in banana leaf and steamed in a steamer or idly mould vessel. It is served as evening snack or as part of breakfast. Ela ada can be made in wheat and rice flour and the fillings can vary as you prefer
Ingredients
Rice flour: 1cup (roasted
Hot water as required
Salt to taste
Cardamom powder: 1/4 tsp
Banana leafs: 4 pieces
For filling:
Grated coconut : 1 cup
Grated jaggery : 1/2 cup
Salt a pinch
A pinch of coconut milk (optional)
Instructions
Mix coconut jiggery, cardamom powder with your hands very well until well combined and soft.
2. Spread half tsp of oil all over the leaf with the fingers.
3. Make dough (like chapatti dough, not too watery) by adding hot water and salt.
4. Place lemon size dough in the center of the leaf, flatten it with finger and spread the filling on it.
5. Fold the leaf in half. Tuck the ends of the leaf.
6. Place the adas in a steamer/idly cooker and steam it for 10 minutes. Ela ada is ready to serve it warm or after it cools down.
28.) Gud payasam
Payasam is kheer – kheer, favourite to all gods and goddesses. A delicious milk preparation done is many forms with many substitutes to rice – milk being a common medium to make kheer – derived from ksheer – in sanskrit kheer means milk. Here we have replaced sugar the sweetener with jaggary .
Ingredients
Milk – 1liter – reduced to half.
Basmati rice – handfull – washed.
Gud – jaggery – as per taste – handfull approximately
Resins – handfull
Cardamom powder – 1/2 tsp.
Instructions
1 – boil milk and reduced it to half with washed rice.
2- when cooked properly and thick in consistency, switch off the gas.
3- add chopped jaggery – stirring constantly.
4- add washed resins and cardamom powder and cover with lid.
5- let the payasam stand for few minutes. Serve with garnishing of pistachio silver.
6- also add little bit of ghee on any kheer / paysam .