Ayurveda and the Ayurvedic diet have been around for thousands of years. At Aanandakosha, our chef will take you on an Ayurvedic culinary experience as he prepares delicious meals using healthy and high-quality ingredients. 
We highly encourage you to join the chef in the kitchen to learn the art of healthy cooking.
 Eating well, having a proper routine, and diet hygiene (ideal portion sizes are those that fit into a fist) are the key ingredients to a healthy life.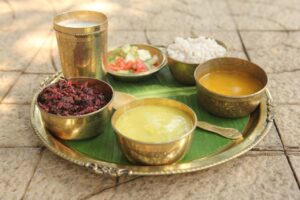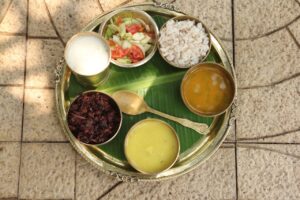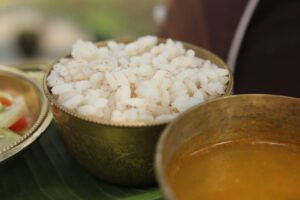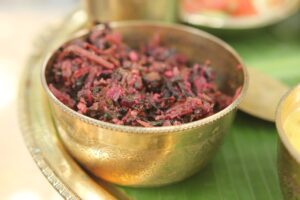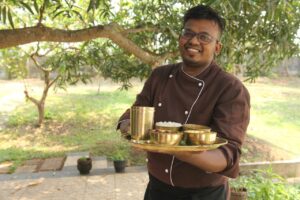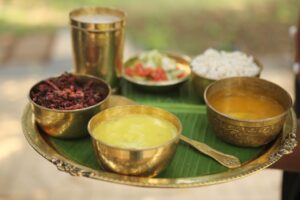 At Aanandakosha, we prepare the Ayurvedic diet based on the principles of Ayurvedic medicine and focus on balancing different types of energy within your body, for improved health.
Although the Ayurvedic diet has specific guidelines for each Dosha or body type, we follow a Tridosha diet as a whole which encourages eating whole foods like fruits, vegetables, grains, and legumes. A well-balanced diet is the foundation of good health for both the mind and the body.
The Ayurvedic diet at Aanandakosha, rich in many essential nutrients, will replenish your body and enhance bodily functions.
The Ayurvedic diet includes very minimal, if any, processed foods, which often lack fiber and important vitamins and minerals.
We welcome you to experience a truly transformative diet at Aanandakosha.
Aanandakosha's dining experience comprises the following.
Ayurvedic principles- Ayurveda diet based on their dosha principles is a mostly vegetarian diet with proper portioning to support the digestive system while pacifying all 6 Rasas (taste buds).

All-inclusive – Three meals and mid-day and evening juices are included in the package.

Cook with the expert – Indulge yourself in the art of healthy cooking by participating with our chef in the cooking process. Learn the principles and processes behind the Ayurvedic way of cooking and eating.

Organic – We source our organic products from the local markets and our own garden.

Diversity – Our chef uses reliable, local, sustainable, healthy and handmade ingredients to cook and this is the real secret behind the wholesome flavors we serve up at Aanandakosha.

The Aananda dining experience – Offers a unique style of sitting and sharing meals with people from different cultures and inculcates the habit of sharing happiness at mealtimes. 

Modification of lifestyle – All the above factors positively contribute to the transformation of the individual and help in imbibing a healthy and sustainable lifestyle.