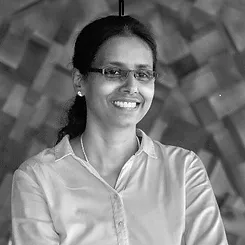 Elizabeth P. K.
With a career spanning 26 years in the Hotel Management industry, Elizabeth P. K. is a stalwart in Operations and Quality Management. Before captaining Aanandakosha Retreat, she has proven her mettle with her remarkable sprints as part of the core management team of top players in the hotel and resort industry, both domestic and international, such as Mekosha Ayurveda, Le Meridien Resorts and Convention Center, Dream Hotel (Hampshire Hotels and Resorts), The Park, Design Hotels and Casino Group of Hotel (CGH Earth), to name a few.
She joined the hotel management industry right after her graduation, learning the ropes through sheer hard work and dedication, mastering hotel operations. Her key areas of expertise are leading, mentoring, and monitoring the performance of organizations and team members to ensure efficiency in process operations and meeting individual & group targets. She efficiently handles people issues and actively resolves them without impacting the team performance. Her excellent interpersonal, communication, team building & management skills, with extensive experience in talent acquisition, training, and development of the workforce, help with the able leadership she has showcased for the institution.
The unique creative and managerial energy and superlative industry knowledge that she brings to the table, honed over decades, have greatly benefited the Aanandakosha team and we are proud to have her on board with us as our leader.